Clearance Offers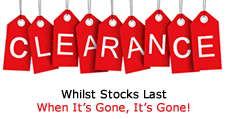 Sorry there are no current Clearance Offers.
Please check back often!
Unrepeatable Clearance Offers on Titanic eLiquid flavours.
While stocks last - When they're gone, they're gone!

In accordance with UK legislation, from May 20th 2017 we are no longer able to sell products containing over 20mg nicotine, or eliquid bottles containing nicotine over 10ml in volume.
There are no products matching the selection.