FAQ's
How does an electronic cigarette work?
A typical electronic cigarette consists of a power supply (battery) an atomiser and a tank or cartridge. E-liquid is vaporised inside the clearomiser when you activate the battery and inhale giving you a hit of nicotine but without the 4000 harmful chemicals that are in a cigarette.

Will using an electronic cigarette help me quit smoking?
An electronic cigarette is not sold as a quit smoking device but rather as a device to be used instead of smoking. The electronic cigarette will deliver a steady flow of nicotine to satisfy your craving.
How much can I expect to save?
An average smoker who smokes 20 cigarettes a day at a cost of £8 per pack will spend £56 per week / £240 per month / £2880 per year. Each 10ml bottle of e-liquid is equivalent to approximately 100 cigarettes and costs only £5.99 per bottle. This represents savings of over £200 a month / £2400 a year. (less the cost of your electronic cigarette)
Which Strength should I use?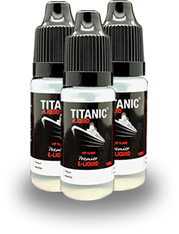 This depends on what brand of cigarette you normally use and how many you smoke a day. We currently have three strengths available 9mg, 18mg & 24mg. These could be classified as Low, Medium and High Strengths. An average smoker will use an 18mg strength unless they are smoking a lighter cigarette in which case they would go for the 9mg or if they are smoking more than 20 a day in which case they will maybe go for the 24mg.

Please Note: You must be 18 years of age, to purchase any of our products. Titanic e Liquid reserves the right to cancel any transaction where it reasonably believes the purchaser is not of the required legal age or purchasing products on behalf of a minor.
Titanic E-Liquid makes no claims that using an electronic cigarette will cure a smoker's addiction to nicotine. Using an electronic should be seen as an alternative to smoking as it will deliver nicotine to the user.
We are not a pharmaceutical company and we do not produce medical products.